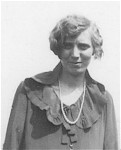 Born 20 Dec 1905 at 30 Thorpedale Rd, Islington, London UK
Her father was killed in action in 1914 and thereafter her relationship with her mother deteriorated.
Her elder brother Alfred visited around 1918. He had emigrated to Canada in 1916 and joined the Canadian army. Around this time Dorothy began to think about going to Canada also.
Circa 1920, she was working as a domestic at 35 Hanley Road, Holloway, London.
1923 July 07 she booked passage on the SS Pittsburgh to Halifax NS, having arranged with Dr. and Mrs. Clarence Webster of Shediac NB to work on their farm for a year to pay off her passage. The Websters were well known for boarding children.
On the ship she befriended a Welsh girl named Myfanwy Roberts and the two kept in touch following the journey. Later on, Dorothy's children knew Myfanwy as "Aunt Muvie". Passenger records show that she met her future husband Fred Seddon on the ship also. Arrived in Halifax on 16 July 1923.
Moved to Toronto in 1924 after finishing her term at the farm. Married Frederick William Seddon (1899-1962) on 18 July 1924 at Salvation Army Chapel, Toronto ON.
In 1930 her husband moved to Cornwall to take a job at Courtaulds Canada. She stayed in Toronto with their children Joy and Billy for about a year because she still had a job there. Then she moved to Cornwall in 1931, and studied to become a Registered Nurse's Assistant.
In the late 1950s she took a job at the St. Lawrence Sanatorium for tuberculosis patients. Retired in 1982.
Married Garnet Alexander Clark (1900-1985) on 17 Feb 1976 at 3rd Street Baptist Church, Cornwall.

Died 08 Aug 2000, Cornwall.
Irene Joyce "Joy" Seddon born 02 April 1926, Toronto
Married Borden Arthur Lloyd (1911-1980) on 01 Jan 1942 at Cornwall
Died 25 Feb 2005 at Tamworth Ontario


William Garnet Seddon, born 19 April 1928, Toronto
Died 07 April 1943 at Cornwall, of leukemia


Allan Arthur Ellis Seddon born 01 Oct 1938, Cornwall
Married(1) Margaret O'Brian on 22 Apr 1961 at Cornwall; annulled 1962
Married(2) Anne Lillias Sansom (1930-2010) on 26 Feb 1969 at Cornwall