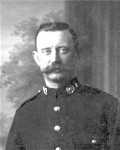 Born 19 Feb. 1875, High Street, Mortlake, Surrey, UK
Served in Royal Marines Light Infantry from 19 March 1890 to 11 Oct. 1895.
Married Edith Maud Frith (1875-1958) on 03 Dec. 1893 at Hampstead, Middlesex, UK
Moved to Queensferry, Scotland after his discharge in 1895, where he practiced his trade of bootmaker.
Joined Royal Scots Guard in Jan 1901. Served as a Sergeant during the Boer War in South Africa 1901-1902, discharged 24 Apr 1902.
At the 1901 census his wife and five children were living in Dalmeny, South Queensferry, Scotland.
Returned to London in June 1902 with his family, where he joined the London Metropolitan Police. Resided at 120 High Street, Mortlake.
He also served in the Royal Marine reserve to support his growing family.
At the outbreak of WW1 on 23 Aug. 1914 he was recalled to active service with the Royal Marine Light Infantry. Served in the action at Heligoland.
He was killed in action at Antwerp, Belgium on 11 Oct. 1914 aged 39 years. He was buried at Schoonselhof Cemetery, Antwerpen, Belgium.
He is honored in the Metropolitan Police Book of the fallen of WW1 in Westminster Abbey, London; on the memorial to the fallen of Wood Green at Wood Green, London; and in Margravine Cemetery, Hammersmith, London.
Violet Edith May Stride, born 06 Dec 1895 at Gillingham, Kent
Married Charles James Nowell (1886-1919) on 22 Dec 1917 at Shepton-Mallet, Somerset
Married (2) Herbert Ward Bartram (1879-1968) on 05 May 1924 at Edmonton, London
Died 25 Apr 1984, Melton-Mowbray


Millicent E. Bartram (1914-1987)

Herbert J. Bartram (1915-?)

Ethel Bartram (1916-2000)


Eileen V. Bartram (1924-1987)
Married Kenneth Etherden (1920-2001) on 20 May 1945 at Melton-Mowbray

Dorothy M. Bartram (1934-)
Married Reginald Coar (1931-) on 12 Nov 1955

Millie and Ethel Bartram were daughters of Herbert from his previous marriage. Dorothy Stride always referred to them as her nieces even though they weren't blood relations.